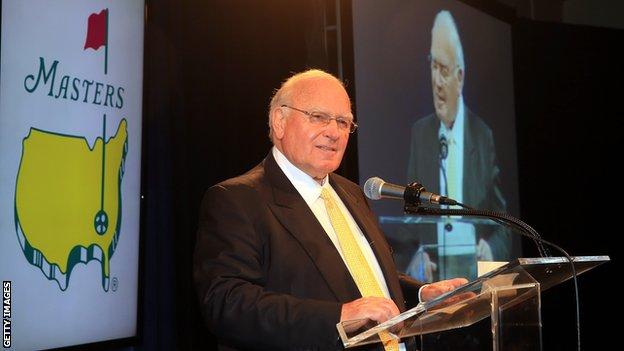 Tributes had been paid to revered golfing broadcaster and journalist Renton Laidlaw, who has died, elderly 82.
He reported on 58 Open Championships and 42 Masters throughout his profession, which integrated intensive paintings for the BBC.
The Scot used to be BBC golfing correspondent for 15 years and introduced Recreation on 2.
"Renton's wisdom, perception, wit and beautifully unique voice made him an immensely in style determine in golfing and recreation usually," mentioned R&A main govt Martin Slumbers.
"He used to be admired via such a lot of people who grew up being attentive to his statement or studying his studies from The Open and the opposite primary championships.
"Renton made a outstanding contribution to golfing over an extended and a hit profession.
"He's going to be a great deal neglected via gamers and fanatics all over the sector and via his many buddies in The Royal and Historical Golfing Membership of St Andrews."
BBC Recreation's present golfing correspondent Iain Carter known as Laidlaw "a colossus of the golfing media", whilst Dougie Donnelly added that he used to be "an excellent creator and broadcaster, held in authentic affection via everybody he labored with".
Laidlaw were concerned within the Affiliation of Golfing Writers since 1963 and served in numerous roles.
He held the function of president for 10 years earlier than status down in 2015.
Morph.toInit.bundles.push(serve as() { !serve as(e)serve as t(r)if(n[r])go back n[r].exports;var o=n[r]=i:r,l:!1,exports:;go back e[r].name(o.exports,o,o.exports,t),o.l=!zero,o.exportsvar n=;t.m=e,t.c=n,t.d=serve as(e,n,r),t.n=serve as(e)var n=e&&e.__esModule?serve as():serve as();go back t.d(n,"a",n),n,t.o=serve as(e,t),t.p="",t(t.s=three)([function(e,t)e.exports=React,function(e,t,n),function(e,t,n),serve as(e,t,n),serve as(e,t,n){"use strict";serve as r(e)go back e&&e.__esModule?e:serve as o()serve as u(e)"@babel/helpers – typeof";go back(u="serve as"==typeof Image&&"image"==typeof Image.iterator?serve as(e):serve as(e))(e)serve as i(e,t)if(!(e instanceof t))throw new TypeError("Can't name a category as a serve as")serve as a(e,t)serve as c(e,t,n)go back t&&a(e.prototype,t),n&&a(e,n),eserve as l(e,t)serve as s(e,t)serve as(e,t)go back e.__proto__=t,e)(e,t)serve as f(e)serve as p(e,t)"object"!==u(t)&&"serve as"!=typeof t?d(e):tserve as d(e)if(void zero===e)throw new ReferenceError("this hasn't been initialised – tremendous() hasn't been known as");go back eserve as m()!Replicate.assemble)go back!1;if(Replicate.assemble.sham)go back!1;if("serve as"==typeof Proxy)go back!zero;take a look atgo back Date.prototype.toString.name(Replicate.assemble(Date,[],serve as())),!zerocatch(e)go back!1serve as y(e)go back(y=Object.setPrototypeOf?Object.getPrototypeOf:serve as(e)Object.getPrototypeOf(e))(e)serve as b(e,t,n)go back t in e?Object.defineProperty(e,t,):e[t]=n,eObject.defineProperty(t,"__esModule",),t.default=void zero;var h=serve as(e)(n(zero)),v=r(n(1)),g=n(7),_=r(n(eight)),w=r(n(12)),O=r(n(13)),j=serve as(e){serve as t(e)l(t,e);var n=f(t);go back c(t,[key:"componentDidMount",value:function(),key:"render",value:function()var e=this.state,t=e.embed,n=e.showReportButton,r=this.props,o=r.caption,u=r.nopal;return h.default.createElement("div",className:u?"sp-sport-embed-no-pal":"",h.default.createElement("div",,t,n&&h.default.createElement(w.default,text:"Report"),this.getCaption(o)))]),t}(h.Part);j.propTypes=url:v.default.string.isRequired,brandingTool:v.default.string,caption:v.default.string,identify:v.default.string,nopal:v.default.bool,j.defaultProps=;var E=j;t.default=E},serve as(e,t,n){"use strict";serve as r()serve as o()var u=n(6);o.resetWarningCache=r,e.exports=serve as()},serve as(e,t,n),serve as(e,t),serve as(e,t,n),serve as(e,t,n){"use strict";serve as r(e)go back e&&e.__esModule?e:serve as o(e)serve as u(e,t)serve as i(e,t)serve as a(e,t,n)serve as c(e,t)if("serve as"!=typeof t&&null!==t)throw new TypeError("Tremendous expression will have to both be null or a serve as");e.prototype=Object.create(t&&t.prototype,),t&&l(e,t)serve as l(e,t)serve as s(e)serve as f(e,t)serve as p(e)if(void zero===e)throw new ReferenceError("this hasn't been initialised – tremendous() hasn't been known as");go back eserve as d()!Replicate.assemble)go back!1;if(Replicate.assemble.sham)go back!1;if("serve as"==typeof Proxy)go back!zero;take a look atgo back Date.prototype.toString.name(Replicate.assemble(Date,[],serve as())),!zerocatch(e)go back!1serve as m(e)Object.defineProperty(t,"__esModule",),t.default=void zero;var y=r(n(zero)),b=r(n(1)),h=serve as(e)serve as t()c(t,e);var n=s(t);go back a(t,[,]),t(y.default.Part);h.propTypes=,h.defaultProps=;var v=h;t.default=v},serve as(e,t,n),serve as(e,t,n)]);
//# sourceMappingURL=package.js.map;
});