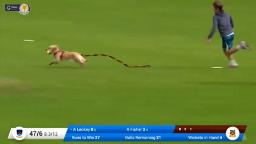 CSNI CC and Bready Cricket Membership had been enjoying out the final phases in their Girls's All-Eire T20 fit when a canine gave the impression out of nowhere.
The gamers and commentators had been then left in hysterics because the bushy pitch invader snatched up the free ball from the outfield, with its proprietor desperately seeking to chase it down.
Thankfully, batter Aoife Fisher controlled to coax the canine over to her and retrieve the ball, with the commentators joking that it might more than likely now "desire a blank."
"I feel this has introduced Covid rules to a complete new usual," they laughed.
Watch the paw-fect pitch invasion within the video above.